We are really proud of Russell a Sec 2 boy from Pierce Secondary School. He has come a long way and has made such a vast improvement. Initially, when he joined us, he lacked self-confidence and was not really self-motivated. Mrs Chung worked with him to help him change his attitude and unlock his potential. Gradually his attitude improved and he started to pay more attention in class and work harder. Having shown some improvement, he grew more confident of his own abilities and became more diligent. We are very proud of him. Keep it up Russell! We know you can achieve great things if you work hard!
Russell sent this to Mrs Chung when he received his SA 2 results.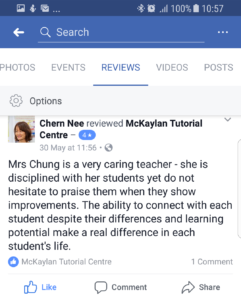 Russell's Mummy, Ms Chern Nee's review of our centre in Facebook.