Hi everyone,
How did your Primary 5/6 children do in the SA 1 exam?
Did they struggle with the comprehension cloze question?
Are they still writing super short compositions without good descriptions?
Did they complain about the inability to understand the comprehension passage?
Did they fail the grammar component?
Did they score zero marks for the sentence synthesis questions?
I can understand your anxiety. The PSLE exam is getting more and more difficult and pupils just don't know how to score in the exams.
Many parents also make a mistake of only focussing on improving their children's writing. However, Paper 1 only makes up 27.5% of the marks while Paper 2 constitutes a hefty 47.5%.
I have been teaching English for the past 16 years and is a trained MOE teacher. I have developed a structured and comprehensive curriculum designed to equip my pupils with the skills to excel in their exam. There are many skills and components to teach but our programme which spans 11 months will allow your child to master the skills to excel in the exam.
I don't believe in shortcuts. Your child needs a structured and comprehensive programme that will unleash his or her potential.  You can read the testimonials by my pupils who have done well in their exams and have made significant improvements  in their exams in this blog or on our facebook page.  The incalculable joy on their faces when they share their results with me is what makes teaching so worthwhile.
By joining our family, your child will score full marks in the grammar section after I explicitly reveal to them and teach the commonly tested grammar items in the PSLE. I do this by using PowerPoint slides, videos, games and drill and practice exercises such that all my pupils become very well-versed in the commonly tested grammar items in the PSLE.
The pupils also learn answering techniques to score in the reading comprehension section.
They will learn to develop intriguing plots and write vividly.
As I begin every lesson with a list of 10 words, your children will be guided to develop a greater range of vocabulary as well as skills for deducing the meaning of unknown words.
I also explicitly teach the rules for sentence synthesis. Some pupils complete many practices without knowing the rules behind the sentence synthesis or why they get zero marks for the questions. They need to be explicitly taught and I do this by using PowerPoint slides, games and drill and practice exercises so they become very proficient and score full marks for this section.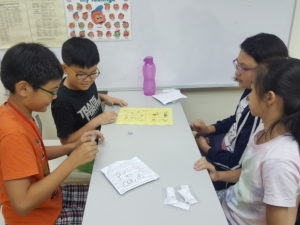 You can read Chloe's testimony of how I helped her score an A Star for English in this blog. I have taught her since she was in Primary 3.
My Primary 5 pupils whom I have taught since Pri 4 scored 65 marks and above for Paper 2, outdoing many of their peers who failed or just passed by the skin of the teeth.
My Primary 6 pupils whom I have taught since Pri 5 made vast improvements of at least 15%.
Although my centre is located in Bishan, none of my Primary 6 pupils live in Bishan.  They live in Hougang, Serangoon and even Woodlands.
As I teach most of the classes here, I don't have many classes for all the levels. My pupils sometimes have to reschedule their other activities to attend my lessons.  I have taught a majority of my pupils for many years, seeing them through Primary and Secondary school. My pupils tend to do well in their Secondary schools as they have a solid foundation from studying in our centre for years.
Your child can benefit immensely from my lessons. You can click on the link to read my pupils' testimonials or you can read them in this blog.
http://mckaylan.com/Primary.html
http://mckaylan.com/Secondary.html
Let me help your child. Contact us at 98214603 or 64529554.
You can also check out our website www.Mckaylan.com for more information.